Asian models are now fast becoming supermodels because of their determined character and their glamorous beauty that can compete. Most of the models have been in the industry for years, practicing their skills and poses that make them get noticed not just in ads but also on the runway.
The life of supermodels is not easy as it requires focus and hard work to be part of the competitive industry. It is a kind of work where models must always look their best and ensure they are always attractive to get noticed.
Diversity in modeling has been an issue for a long time, but now it is considered something refreshing and is given a full welcome.
The modeling industry has been saturated by Americans, British, and other nationalities. Asians now have a chance to represent designers not only locally but worldwide.
It took years, but they are noticed now because of their poise, uniqueness, and outstanding beauty.
They are considered impressive and can face the rest of the world with what they bring to the scene.
Well-known models have now become part of the lingerie scenes for popular brands being showcased not just in the U.S. but in most parts of the world.
Being a lingerie model has become a popular lavishness where famous names in the modeling industry have taken part in the event in the past few years.
Asians have also joined the event, making them beautiful Asian lingerie models to emerge with other nationalities.
Below are some of the top Asian lingerie models who have walked the runway with their fantastic spins, sashaying their beauty to be admired by many people. Most of the models below have been in the industry for years; some have less than a decade of experience under their belt.
The first Chinese model to grace the Victoria's Secret Fashion Show and the second Chinese model to appear on the American Vogue cover and again on the April 2020 issue of the same magazine. She was also the first East Asian spokesmodel for Estée Lauder cosmetics and the first Asian model considered on the annual highest-paid model list of Forbes magazine.
Liu was born in the Hunan province of China, and with that simple beginnings, she rose to the top and became famous as a model, becoming a lingerie model for Victoria's Secret.
She joined the group of international supermodels, including Alessandra Ambrosi and Adriana Lima.
Xin was raised in Guangdong Province in China. She graced one of the Victoria's Secret Fashion Show and appeared in magazines of Vogue China and the Middle East. She also walked for Giambattista Valli and Miu Miu. Apart from that, she is a part of Oui Management, Women Management, Uno Models, S.M.G. Model Management, Modelwerk, and PARS Management.
Xin was born in 1994 and with a statuesque profile of 5 foot 10 inches.
To this day, Xie is still active with her modeling stint, and she is also available on social media. You can find her on Instagram.
Raut was the second Indian model to appear in the Victoria's Secret Fashion Show in 2002 and 2003. She was only 17 when she pursued her modeling and participated in Femina Look of the Year in 1996, where she won hands down. She then started modeling and became one of the top 15 for the Elite Model Look contest held in 1996.
Not only was she a part of Victoria's Secret Model, but she also walked for Yves Saint-Laurent and Hugo Boss.
Ujjwala is considered a very successful supermodel from India.
Her very recent work was with the Spring 2022 collection of designer Bibhu Mohapatra.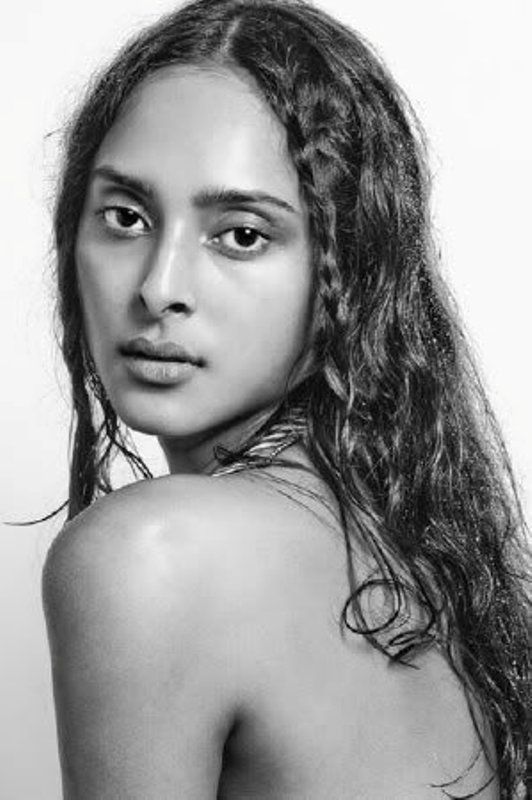 Moni is not just a model, but she is also a dancer and an actress. She signed under I.M.G. Models, and thus paved the way for her to have modeling stints and appearance to fashion shows and on the cover of the magazine's Tank, Harper's Bazaar (Italian), Vogue, and Elle.
She walked for India Fashion Week, Milan Fashion Week, Paris, and Australian Fashion Week. She became a well-liked model for Vivienne Westwood, Christian Dior, Leonard, Chloe, and Yoji Yamamoto.
Because of her stunning and exotic beauty, they chose her to model for Mac Cosmetics. She did T.V. commercials as well as models for jewelry brands.
Moni is also one of the beautiful Asian lingerie models to walk the runway for Victoria's Secret and later on became a VS Angel.
Sui He joined the Victoria's Secret Fashion Show five times. Hailing from Wenzhou, China, Sui remained low-key even though she has become a Victoria's Secret regular model.
He appeared in many modeling stints since she started modeling at the age of 17 when she won a modeling competition in China. That catapulted her career in modeling, and it has continued to this day.
Sui is a Vogue favorite, as she appeared on the covers of Vogue Thailand, Australia, and China. Aside from that, Sui was also interviewed in Vogue Italia and British Vogue. She also worked with Ralph Lauren, Diane von Furstenberg, Donna Karan, Helmut Lang, Anna Sui, and other designers.
Irina Shayk was born in January 1986 of Russian descent. It was in 2007 when she became the face of Intimissimi and started appearing in the magazine of Sports Illustrated Swimsuit Edition until 2015.
Her work includes Victoria's Secret catalog, Morellato, and Cesare Paciotti.
She modelled for Bottega Veneta, Marc Jacobs, Moschino, Burberry, Givenchy, Desigual, Philipp Plein, Max Mara, Isabel Marant, Oscar Dela Renta, Mango, and more.
Irina is considered a Russian stunner with her sensual beauty that seems to mesmerize people. She was also added to the Hall of Fame of the most in-demand and hottest models.
Shayk is now a mother, but she has maintained her beauty and her impressive body shape. Hence, she's still one of the hottest lingerie models around.
Kelsey Merritt was born in October 1996 to a Filipina mother and American father of various descent. Currently based in New York but started her modeling career in the Philippines at a very young age. She was the first Filipino to walk in the Victoria's Secret Fashion Show and appeared in the Sports Illustrated Swimsuit Issue.
During her modeling career in the Philippines, she worked with San Miguel Light, Kashieca, and Palmolive, at the same time poses, for various magazine covers.
Kelsey's new management is under The Society in New York City, and she also signed a contract in 2020 with Viva Artists Agency.
Estelle Chen started walking the runway in 2014 but not before she won the Elite Model Look in France. She was chosen to represent China at the international contest held in Shenzhen, where she was in the top 15.
Chen became the favorite when she walked the runway for Miu Miu, Louis Vuitton and Nehera, Kenzo, L.O.E.W.E., and Veronique Leroy.
She also modeled for Dior Resort 2016, Dior fashion show in Tokyo, Dolce and Gabbana, Elie Saab, Fendi, Jean Paul Gaultier, Alberta Ferreti, among others.
Estelle paced the runway for Victoria's Secret Fashion Show as one of the Lingerie Models for two years.
Hyun Joo was born in 1992 in South Korea. She made headlines when she became the first Korean model to become part of Victoria's Secret model.
She was a part of the D.N.A. Models since 2017 and also modeled for Sports Illustrated. This 5'9″ model also worked for Venice Magazine, Harper's Bazaar Singapore, and Oscar Dela Renta.
Joo Joo, as she's called, is not only beautiful and sophisticated, but she is also a brainy one as she is also a graduate of Seoul National University. She was able to have a spot to get into one of the most prestigious universities in the country. She did not just get accepted, but she made sure she graduated before she focused on her goal, which is modeling.
Shaik's mom is of Lithuanian and Jamaican descent, while her father is of Pakistani descent. When Shanina was only eight years old, she modeled for Myer and T.V. commercial with Hyundai.
When she was fifteen, she became a runner-up for Make Me A Supermodel. It was not until she was a bit older when she joined multiple modeling competitions and reality shows that paved the way for her to land in Victoria's Secret Shows. She also appeared in print work for Victoria's Secret and Bonds. Her modeling stint continued from there.
In 2016 she became a brand ambassador for Australian Swimwear Seafolly. Sheik was also featured in the covers of Cleo, Vogue India, Harper's Bazaar Singapore, Vietnam, Australia, and Arabia.
11. One Wang Yi
Wang was born in China, and her career started when she won the 10th China Super Model Final Contest in Beijing. It paves the way for her to realize her dreams of becoming a model.
Wang did not believe she could be a part of Victoria's Secret runway show because it is usually dominated by well-known and top models such as Liu Wen, Karlie Kloss, and even Adriana Lima. Wang thought she could not compete with the said models, thinking they were so stunning and impressive.
It did happen when a Top Model search for the next Victoria's Secret star commence, and Wang competed with a lot of mesmerizing beauties, and she was able to get the spot.
Xi's modeling career started in 2009 when she appeared in a T.V. competition, but it was in 2011 when her professional modeling career commenced. She debuted in the Givenchy Haute Spring Show and modeled for their ready-to-wear collection. She then became the face of the same brand for their Fall/Winter advertising campaign.
From 2013 until 2018, Xi modeled for Victoria's Secret Fashion Show. Xi modeled with Rosie Huntington-Whitely and Miranda Kerr for Michael Kors Shanghai Extravagance, and she also participated in the Met Gala red carpet with Huntington-Whiteley and Kors.
2015 was also a busy year for Xi cause she modeled for Balmain 2015 Fall runway with many other well-known models.
At present, Xi is married and has a son named Ronaldo, to whom she gave birth in 2019.
Born in 1989, Xiao Wen Ju was the first Chinese model that became the face of Marc Jacobs. Her modeling career started in China in 2010 after she signed with IMG-Models.
She has gained attention for her many modeling stints, including her walk for D.K.N.Y., Prada, Gwen Stefani's L.A.M.B., Calvin Klein Jeans, D.K.N.Y., Emanuel Ungaro, Louis Vuitton, Prada, Thierry Mugler, Kenzo, Marc Jacobs, Tory Burch, Adidas, and more.
Ju also appeared in Vogue China twice for Numero China Magazine cover and Vogue Italia.
In 2016, Ju modeled in the Victoria's Secret Fashion Show in Paris, and she was the fifth Chinese model included in the list of models for the well-known lingerie brand. She again graces the runway for the same brand in 2017 when it happened in Shanghai.
14. Qin Shupei
Shupei is also an actress, and she has been active in the modeling industry since 2007 when she signed with Next Management. She was in the British Elle magazine in August and September 2008, also in Vogue China editorial.
In 2012 she modeled for Victoria's Secret Fashion Show and again in 2017 in Shanghai, China. Qin also became one of the Top 50 models on models.com in 2011 and got her first Elle Style Award in 2010.
Shupei modeled for Burberry, Vera Wang, Chanel, Versace. She also posed nude for Marc Jacobs as a campaign against cancer.
At present, she is now divorced with a daughter and is currently in a new relationship.
15. Yang Mi
She is an actress first and got her modeling career in between. She started her career in modeling as an advertising model in 2001, but her popularity peaked when she became the ambassador for the lingerie brand Victoria's Secret in Asia 2020.
Yang Mi is a serious actress, but because of her exposure to commercials and advertisements, not to mention her extreme appeal and simple figure, she is a high standard for beauty not just in China but also in other Asian countries.
Victoria's Secret lingerie brand can get representation from the actress and model with her charm.
She will be the new face for Victoria's Secret brand not just in China but in Southeast Asia, Japan, and South Korea.
Bar is a lingerie model and an actress. She also became the host of the X Factor Israel in 2013.
Bar is considered a successful model, appearing on the cover of the Sports Illustrated Swimsuit issue in 2009. She also appeared in advertising campaigns for R.L., Desigual, Andrew Marc, Marks and Spencer, Gap, Hurley, Rampage, Lucky Brand, Fox, Sears, and Victoria's Secret.
She also campaigned for non-fashion brands like Samsung, Subaru, and Garnier Fructis.
Because of her appeal to both men and women, she was voted and included in the list of 100 Most Beautiful Women in 2011. 
Refaeli was born in June 1985 in Israel. Her net worth was estimated at over $20M.
17. Shlomit Malka
Malka is considered one of the world's top lingerie models. She was also an ambassador for non-lingerie brands like Maybelline, Lancome, Armani, L'Oreal, etc.
Malka was born in 1993, and her career took a turn in 2013 when she became one of the ten highest-earning models in Israel.
In 2015, she became the model for an Italian lingerie company called Intimissimi, replacing Barbara Palvin, Bar Refaeli, Ana Beatriz Barros, and Irina Shayk.
She married in 2017, and they separated in 2021. Malka also suffered an accident in 2017 where she was placed in a medically-induced coma to help her regain a stable condition.
Natasha was born in July 1985 and has graced magazine covers, and has been a part of high-fashion advertisement campaigns. She was one of the most in-demand models in the 2000s.
Her first modeling debut was with Why Not Model Agency in 2004.
Poly is considered one of the hottest lingerie models because of the La Perla ad campaign that has become a hot affair. She was also a Victoria's Secret Fashion Show model for two years, 2015 and 2016.
Poly has appeared in various magazine covers in French, Chinese, Japanese, Korean, Greek, Portuguese, American Vogue, as well as MUSE and Harper's Bazaar, Numero, I-D Magazine, among others.
19. Melie Tiacoh
Born on January 991 and has Lebanese, Guinean descent. Melie started her career in modeling at the age of 10, where she would take photos of herself as she enjoyed seeing her face and various expressions. She loves to see her pictures on her blog as well.
Tiacoh is based in New York and under Heroes Model Management.
She has a degree in Finance and is using it to manage her finances wisely. She believes that modeling is a short career, and you have to be wise in your earnings.
Tiacoh recalls her work with Victoria's Secret and how it made her feel a bit intimidated and challenged, but she has pulled through and gave it her all.
20. Ling Tanfei
Ling is from Kuala Lumpur, Malaysia, and became one of the well-known models in the 90s. She was also a model from Southeast Asia to grace the Victoria's Secret in 1996. She got her break when she was discovered at a small fashion show and noticed by an advertising executive.
Tan appeared for the ad campaign of Tiger Beer after. Her first modeling debut was in November 1994 when she modeled for Zang Toi's, Spring/Summer collection. She worked with many famous designers like Elie Saab, Yves Saint Laurent, Tom Ford, Emporio Armani, Chanel, Donna Karan, Giambattista Valli, and work has been continuous since then on for Tan.
She appeared on Italian Vogue, China, US, Germany, Korea, and Vogue Singapore.
Being a lingerie model requires hard work cause you cannot let yourself go by not watching your diet and missing your exercise. One should have focus and determination if you want to be a lingerie model for long. There will be younger models that will emerge, and being watchful and maintaining your figure is the key to keep working in this industry.
Some models have been in the business for decades cause they know how to make things work for them. They are also evolving, where some did not just stick to modeling but branch out to acting or have their own business.